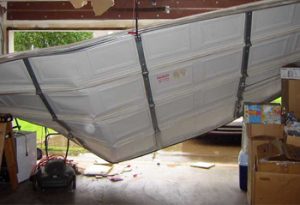 As a garage door installation service provider, we are additionally equipped to provide maintenance and repair services for any garage door system. Our able team of qualified technicians is up to the task to work on all the main garage doors and gates brands, including remote controlled systems. With our services provision around Cape Town and its environs, our fully-stocked mobile service units are always on hand to provide you with solutions to your garage door problems, whether it's the replacement of drive unit and spring system or general servicing and maintenance.
Should your garage door be experiencing any of the issues below, we recommend you contact one of our expert Cape Town repair specialists:
–  A jammed garage door.
– The garage door does not open or shut completely.
– Reversal of the garage door before or immediately after coming into contact with the floor.
– Running motor unit even when the garage door opens.
– The garage door does not respond to the remote control.
General Service
To make sure your garage door functions properly at all times, you will need to carry out regular servicing and preventative maintenance, even when it is operating normally. Not only will routine maintenance prolong product life and maintain the warranty from the manufacturer, but also significantly minimizes the risks of operational failures and high repair costs.  General servicing and maintenance ought to be carried out on most home garage systems every year.
Our highly experienced team of repair technicians is available to work on all kinds of homes and properties, whether, commercial, industrial, or residential. We can assist in:
Repairs of garage doors
Routine servicing
Automation
Gate repairs
Replacement of door springs
Spare parts
Replacing tilt door springs
Remote controls
Replacing broken hinges
Replacing broken garage door cables
Emergency Garage Door Repair Service
Our garage door repairs Cape Town team is also at hand to respond to your after-hour call-outs. Also, our technicians are available 24/7 should your gate system, or garage door fail.
For further queries and inquiries, please get in contact with our certified team on 087 550 3151 today.